Cutlets are one of famous Sri Lankan short eats.Short eats are snacks or appetizers which Sri Lankans eat for tea time or in between meals.Mostly Sri Lankan cutlets are cooked with a stuffing of tinned fish and potato.However this can be prepared with potato and other veggies to make it vegetarian.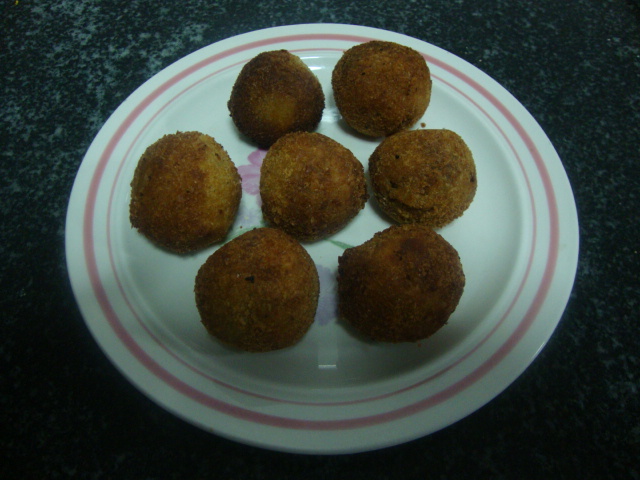 Cutlets
Ingredients
1 x small flaked light Tuna/or sardine

1 small Onion chopped

1 green Chili chopped

1 spring curry leaves (optional)

1 piece Rampe (optional)

1 piece Cinnamon

1/2 inch Ginger root (crushed)

4 cloves Garlic (crushed)

2 tbs Vegetable oil

Salt, Pepper and Cardamom powder (optional) to taste.

2-3 medium Potatoes boiled, skinned and cut into pieces.
Two Eggs (beaten)

Toasted bread crumbs (ground)

Oil for deep frying
METHOD
Drain the can of tuna.

Heat the oil in a skillet (frying pan).

Add crushed ginger and garlic, stir, add onions, green chili, curry leaves, Rampe and cinnamon.

Cook until the onions are tender light brown.

Add drained tuna, stir all together.

Allow to cook for a few minutes.

Add salt, pepper and cardamom powder.

Stir until well mixed.

Turn off heat.

Add potatoes and mix well.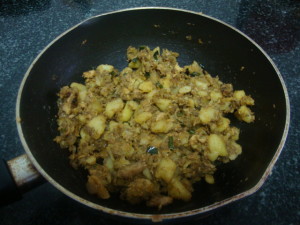 Seperate the mix and shape in to small (2 inch diameter) balls or thick discs.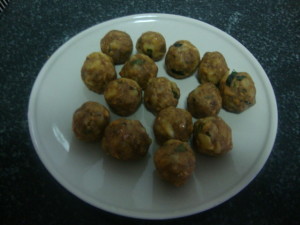 Coat the balls with beaten egg and then with the toasted bread crumbs.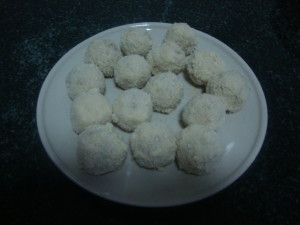 Deep fry in hot oil until the crust is light brown.

Cutlets (made in to thick disc shapes) are great with rice & curry.