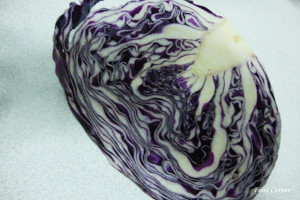 Cabbage is with a lot of health benefits. It has the ability of lowering cholesterol & also preventing cancer. Purple cabbage is another variety & the colour of purple indicates concentration of anthocyanin polyphenols which is beneficiary in many ways to human body.
Anyway I have a practice of making salads, most of our meal includes a salad.Before preparing this,I couldn't find a recipe for a salad with purple cabbage as I was in rush, But I just tried my own Sri Lankan way of preparing a salad.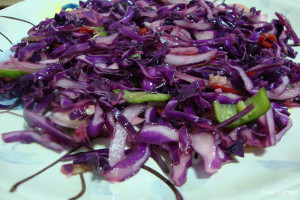 Here is my recipe for 2 servings.
Ingredients
About ¼ of a medium size purple cabbage
1 green chilli/1 red chilli or green & red bell pepper
1 tsp vegetable/olive oil
Method:
Wash & clean the cabbage.
Prepare the dressing by mixing lime juice, sugar, salt, rice wine, olive oil & pepper
In a bowl, mix sliced cabbage, onion & chilli together.
Then add the dressing & mix well.
Keep in the refrigerator about 1 hr.
When it comes to serving, I wanted to decorate it. Usually I like to garnish salads.
With its purple appearance, I just thought of garnishing with the theme Halloween.
I just used a half of a boiled carrot, a slice of tomato, round slices from green chili & a lettuce leaf.
This is my try of making a funny face with big eye balls on my salad plate.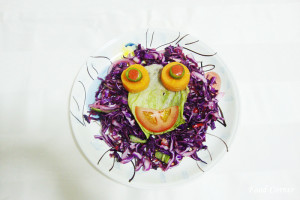 Shared with Church Supper #14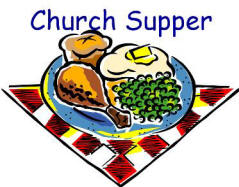 Sharing with No Croutons Required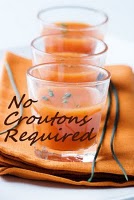 Sharing with Halloween Fiesta