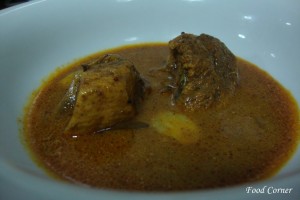 This is a recipe for chicken curry from Sri Lanka. If you prepare your
curry according to this, I am sure all of your neighbors would know that you
are cooking something special. The reason is that you cannot avoid the good
aroma spreading.
My recipe is for about 4-5 servings. However you can adjust spices as per
your taste. This is an indication only & these are the measurements & method
I use in my kitchen.
Ingredients
250g Chicken
½ onion sliced
1 tomato cut into pieces
1 tbsp ginger,garlic paste
1 sprig curry leaves
About 2inch piece from lemon grass root
2tbsp Sri Lankan curry powder
1 tbsp chilli powder
¼ tsp turmeric powder
About 2" cinnamon stick
1 tsp fenugreek seeds
Salt to taste
½ cup thick coconut milk
Vegetable or any cooking oil, about 4tbsp
1 cardamom
2 cloves
1 tsp raw white rice (or 1 tsp plain flour)
Method
First wash, clean & cut chicken into pieces
Keep aside to drain water.
Heat a dry pan and add all spices chilly, turmeric, curry powder & rice(or
plain flour)
Roast it for about 1-2 minutes. You want to do this carefully, without
burning the spices. Roast it & off from the burner when the colour is
slightly brownish.
Now add these roasted spices to the chicken & mix well. If you feel that
mix is dry, add 1-2 tbsp water & mix well. Add ½ tsp of salt too. Mix well
to cover chicken with the spices.
Then cover it & leave it for marinating for about 30 minutes or at least
15 minutes.
Once the chicken is marinated, heat oil in a pan.
When the oil is hot, add ginger garlic paste, cloves, cardamom, fengruik
seeds & cinnamon stick
Then add onions & mix well until onions are tender, and then add curry leaves,
lemon grass. Mix well
Now add chicken which we left for marinating & mix well
When you mix, you will notice that chicken pieces become brown in colour
& at this time, add the chopped tomatoes. Mix well & cook in very low
flame with stirring. If you cook in low flame, while stirring; the moisture
from tomato is enough to make the chicken tender.
When the added tomato is tender & become a paste, add about ½ cup of
water.
Mix well
Close with a lid & cook until chicken is done.
Then add thick coconut milk & adjust salt. When adding coconut milk, don't
add all at once. Add gradually keeping the eye on its appearance.
The chicken curry looks pleasing when it brownish in colour.
Serve hot with rice or any type of breads
Tip: Cook in an earthen or clay pot, you will see the difference in taste &
also in appearance