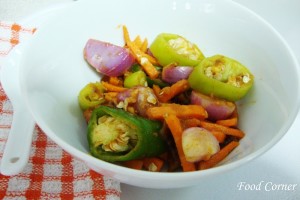 The Malay community in Sri Lanka is a minority of the population, believed to be from Indonesia & Malaysia during the Dutch & British ruling time. However they have a big contribution to Sri Lankan cuisine.
Malay pickle also one of authentic dish from Malay community, but now it is being tasted by almost all Sri Lankans.
The taste is a mix of sweet & sour & hot. Malay pickle takes part in any of Sri Lankan occasion without considering race or religion.Please check other pickle recipes like Sinhala Achcharu and Polos Achcharu for another pickle recipe from Sri Lanka.

Ingredients (for about 5-6 servings)
100 g. Red onions
1 tblsp. Chilly powder (or to taste)
1 tblsps. Sugar(or to taste)
Wash capsicums and cut into pieces
Peel carrot & cut into pieces
Peel the skin of red onions,keep aside
Clean dates,remove the seed
Grind the mustard, garlic, ginger and dates separately using some vinegar.
The taste of the mixture should be hot and sweet.
Serve with rice & curry.(Can serve immediately after prepared)
If not store in a dry clean glass bottle.
You can keep this about 1-2 weeks.