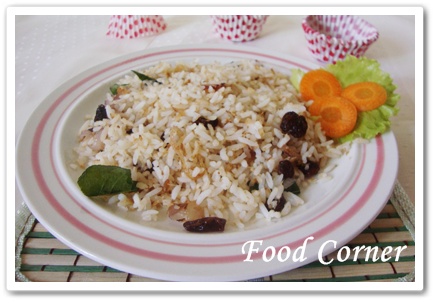 Ingredients (serves 2)
2 cups basmati or long grained rice
2-3 tbspn shredded/grated

coconut
Method
Wash rice & allow to drain water.
Heat about 3 tbspn oil in a pan.Fry sliced onion until golden brown & transfer to a paper towel to drain oil. Same way fry curry leaves.
After removing onion & curry leaves; add cinnamon stick, cardamom & cumin seeds. Fry them. Then add washed rice together with cashew & raisins.
Mix well & cook for about 1 minute or until rice is well coated with oil.
Now add required water & salt & bring rice to boil. In this stage, you can transfer rice to rice cooker.
Meanwhile, toast shredded coconut in a pan until golden brown.
Once the rice is done, mix fried onion, curry leaves & toasted coconut.