Here is another Potato curry from Sri Lanka (Ala Hodi kirata)!  🙂 This is one of the easy Potato curry recipes from Sri Lanka. Also known as 'Ala hodi kirata' or 'Ala Kiri Hodi'.I also found this curry is called as 'Potato white curry',but truly I like this as a 'yellow curry' instead a 'white curry'. 🙂 I usually like to cook this mild spicy potato curry with string hoppers as it is a perfect combination. I use green chilies for this curry and avoid curry powder, therefore the curry looks yellowish and tastes milkish. On the other way, due to adding pre boiled potatoes, the gravy is creamy and thick.
If you like eggs in a curry, use some hard boiled eggs together with the boiled potatoes. Recipe is same. You will get a delicious egg and potato curry.
Things to know when you cook Sri Lankan Potato curry  (Ala Hodi kirata)
Here are the things to keep in mind when you cook this curry.
-Don't use red chili powder.
-Boil potatoes first and then use in the curry.
-Once thick coconut milk is added, stir the curry to avoid lumps. Cook in low flame. Continue stirring even after removing from the burner for another few minutes. Then you will get the perfect appearance same as in restaurants.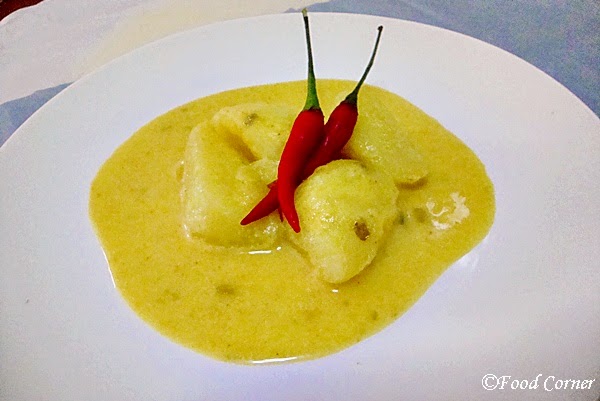 Below is the recipe for this mild spicy potato curry, hope you will like it.
Recipe : Potato curry from Sri Lanka (Ala Hodi kirata)
Ingredients: (for 3-4 servings)
½ medium sized onion sliced
1/2 cup thick coconut milk
1/2 cup thin coconut milk
Wash and boil potatoes. Remove the skin. Cut into quarters. Keep aside.
In a cooking pot, add all the spices together with, onion, green chili & curry leaves.
Mix all & add thin coconut milk. Cover & allow to cook in medium flame till onions are tender. Then add boiled potatoes (which we kept aside) and cook for another 1-2 minutes.
After that, add thick coconut milk.
Stir and cook for few minutes till coconut milk is boiling in a very low flame.
Adjust salt to taste. Remove from the burner and stir for another few minutes. This will avoid any lumps of coconut milk.
Add 1-2

 

tspn of fresh lime juice for more flavor-optional